Do you ever think about your dreams? Are you one of the curious minds along with scientists and psychologists that are intrigued about why we journey through these nighttime visions. We sometimes endure confusing or fantastical scenarios. It begs the question, why do we dream. Here is what we know about their purpose and what dreaming can tell you about the quality of your sleep.
What causes us to dream?
Dreams are part of the normal sleep cycle which includes REM (rapid eye movement) and NREM (non-rapid eye movement) sleep. As part of 5 stages of sleep, dreams occur mainly during REM sleep and we normally cycle through all stages of sleep 4 to 6 times each night.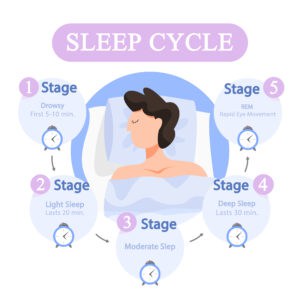 Why is dreaming is a visual experience? A specialized set of neurons in your brain drive activity into the visual cortex resulting in visions even though your eyes are closed.
One theory suggests this is a defense the brain uses during sleep to keep the other senses from overtaking vision during the darkness we have evolved with at night
The leading belief among experts is that your brain uses dreaming to fine tune your memory, Think of it like defragmenting your computer. It analyzes and consolidates memories helping cognitive processes, problems solving and other skills and emotional well-being.
What is the real purpose of dreams
There is still a lot about dreams we do not know. While some researchers claim dreams are necessary for our mental, emotional, and physical health others believe they have no purpose at all.
Still, other theories suggest it allows us to simulate and solve problems in a safe zone before it has an actual effect on our waking life. Like solving your computer issues using safe mode.
But, studies have shown that people who were not allowed to dream had more tension, anxiety and depression than people that did dream. In addition, they hard more trouble concentrating and lacked coordination.
Some showed weight gains and others had a tendency to even hallucinate.
Is it normal to remember our dreams every night?
Most young adults remember their dreams upon awakening only once or twice a week. But this can vary. If you don't consistently get enough sleep then your sleep cycles are cut short so that you get less REM sleep and may not remember your dreams the next morning.
People with certain personality traits may be better at remembering their dreams. For example, researchers found that creative thinkers and daydreamers were more likely to remember dreams while practical personalities focused on the world around themselves were less likely to remember them.
Keeping a journal or note pad next to your bed to write down your dreams can help. Try to wake up slowly to remain in the mood of the dream. Write it down as soon as you wake. Five minutes after the end of a dream 50 percent of it has been forgotten. After ten minutes 90 percent is forgotten.
Do dreams have meaning?
In terms of psychology dreams can mean a great deal. They are helping us work through the emotional and personal trials we deal with every day.
Dreams are unique to each individual. Sigmund Freud believed dreams revealed unconscious desires, thoughts and motivations. By analyzing and interpreting our dreams we can learn from and about ourselves. We are trying to tell ourselves something we need to know or work out.
But, don't rely on what others tell you about what a dream may mean or symbolize. Its meaning is unique to you.
Other people think dreams have no bearing on anything at all and that they are just weird stories that play in our minds with no relation to our real lives.
The best ideas from dreaming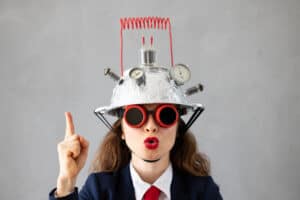 Many people, myself included, claim to come up with some of their best ideas while dreaming. Too bad I do a bad job of writing them all down when I wake. But I do capture a few of them.
But really, some famous ideas that came from dreams include John Lennons' "#9 Dream", the Beatles' "Yesterday", and Salvador Dalis' "Persistence of Memory". Edgar Allen Poe once wrote in his essay "An opinion on dreams" that dreams are a powerful form of consciousness.
How do dreams affect sleep quality
Dreaming generally is an indication of normal healthy sleep. Cycling though all phases of sleep and including the dream stage during the night would suggest good quality sleep. The kind you get when you fall asleep quickly, sleep deeply, stay asleep all night and wake when you feel fully rested. Dreaming at night is linked to your ability to focus for efficient thinking, memory and manage emotions.
On the other hand if you have bad dreams or nightmares it can be a different story. People who experience nightmares often have more trouble falling asleep, waking during the night, and daytime sleepiness. Nightmares tend to be common in people who experience emotional disturbances.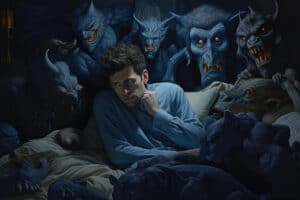 Nightmares can also trigger insomnia.  The sleep disturbances caused by scary dreams are different than insomnia but recurrently having bad dreams can lead to insomnia due to the fear of anticipating another nightmare.
One note, if you schedule your activities to cut your sleep short you may not get enough REM sleep for dreaming. Deep (non-REM) sleep is prioritized over REM sleep during your sleep cycles. This means if you sleep fewer hours at night you may sleep deeper but dream less. Thus, explaining the impact on daytime cognitive abilities when you don't get enough sleep.
Conclusion
Dreams continue to enchant our imagination. Research has made great strides to understand their purposes and how they affect our sleep, but there is still a lot to be learned. They play an important role in our cognitive abilities and emotional support beyond a doubt. How many of us get our creative inspirations from our dreams? If you want some new visions to see, to boldly go beyond, just go to sleep…….and dream.
Sleep well……. Goodnight!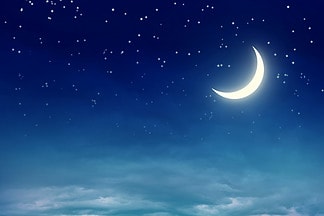 ---
The information in today's post is for educational and informational purposes only and is not intended to be a substitute for professional medical advice, diagnosis, or treatment. When you have questions regarding your health you should seek the advice of your health care provider.