It's normal for you to experience anxiety now and then. It typically is a warning when you expect a potentially stressful event ahead. It may be a problem at work, having to deal with an unpleasant situation, or a difficult decision you need to make. As we all have experienced, dealing with anxiety at bedtime can make it hard to go to sleep. Let's look at what causes anxiety, the symptoms, the consequences and how to relieve anxiety so you can sleep.
Some statistics about anxiety
Anxiety disorders are the most common mental health concern affecting us today.
Why do I get anxiety at night and can't sleep?
Anxiety can get worse at night as you find yourself focusing more on your worries once you are lying in bed without the distractions of the day. All the concerns you carried all day in the back of your mind were drowned out while you were busy.
Now you might start thinking about that deadline you have to meet, or the test you need to pass, or maybe a difficult decision you are dreading to make. Without an activity to occupy your mind you can begin to dwell on it and anxiety builds.
Sometimes people with insomnia may begin to develop worries about whether they will be able to fall asleep. These worries may then exacerbate insomnia and make falling asleep even more difficult.
There are also certain medications that can result in anxiety as side effects. Examples include steroids, amphetamines and antihistamines. Additionally, caffeine and nicotine are other substances that can promote anxiety at night.
Losing sleep from anxiety can in some people can become a cycle toward sleep deprivation. You can't sleep because your anxious. Your anxious because you can't sleep.
What Are the Symptoms of Nighttime Anxiety
If you experience general anxiety, symptoms at night could include:
Fatigue
Irritability
Difficulty concentrating
Restlessness
Worrying or fear of future events
Aches and pains such as headaches, muscle aches, stomach aches sometimes attributed as your "nerves"
Trouble falling asleep and staying asleep
---
Do I have an anxiety disorder?
When anxiety becomes frequent, intense or continuous, it may be an anxiety disorder. It is the most common mental health disorder among the population today.
This often causes sleep problems. 24 to 36 percent of people with insomnia surveyed showed signs of an underlying anxiety disorder. Even if you don't have an anxiety disorder, an occasional episode may still make getting a good nights sleep difficult.
Tell you doctor if you experience stress and uncontrollable worrying affecting your job, school, social life or other normal activities that you can't seem to let go of. These can be signs of generalized anxiety disorder. Trust your doctor to diagnose what is best for you.
Other anxiety disorders that can interfere with sleep include:
What is sleep anxiety?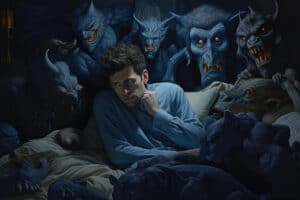 If you have a fear or worry about going to sleep that is sleep anxiety. Also known as somniphobia or sleep phobia, it is thought by a few that it is an evolutionary trait from when we slept on the ground and were open to dangers at night.
Some people can be afraid of what can happen when they sleep making them anxious. Nightmares are a distressing experience that are common with post-traumatic stress disorder (PTSD) and nightmare disorder that disrupt sleep at night.
Sleep anxiety can affect people of all ages. You may be more prone to develop it if you already have certain other disorders such as;
Sleep apnea
RLS (restless legs syndrome)
Insomnia
Narcoplepsy
Sleepwalking
What Happens When Anxiety Interrupts Sleep
Anxiety and sleep are a two way street. While, nightmares or other disturbing dreams can make you anxious about sleep, anxiety can also provoke these events.
That takes us back to the vicious cycle mentioned before of not being able to sleep because your anxious and your anxious because you can't sleep.
Sleep deprivation can then set in and the two problems feed each other creating a cycle of lost sleep and anxiety.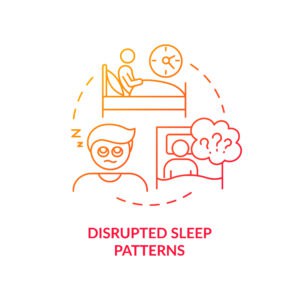 ---
How to sleep better with anxiety
One of the best ways to calm anxiety involves following the rules of good sleep hygiene.
Don't stay in bed for longer than 20 minutes if you can't sleep
Read or listen to relaxing music, give your mind something else to think about that is calming
If you take medications ask your doctor if any of them can cause sleep issues and can be changed
Take a warm bath
Make sure your room is cool and dark and your bed is comfortable
Write down your worries or concerns and tell yourself it's ok to let them go til tomorrow. A good nights sleep will go a long way toward dealing with them at the appropriate time.
Weighted blankets are one way many people find sleep at night with anxiety. In clinical trials people who used weighted blankets reported less anxiety and better sleep. Some people even reported less pain.
Can sleep help anxiety
Deep sleep may help treat anxiety. Where a night without sleep can increase anxiety by as much as 30%, time spent in deep sleep radically decreased anxiety and helped prevent it from rising again in subjects of a study at UC Berkeley Center for Human Sleep Science. This suggests that sleep itself can be a natural way to ease anxiety
---
Conclusion
Anxiety can be a challenging when it creeps in at night, hindering your ability to sleep peacefully.
The statistics reveal the magnitude of anxiety disorders that affect millions of individuals in the United States.
We've explored
the symptoms of nighttime anxiety, the potential link between insomnia
and anxiety disorders, and the various anxiety disorders that can
disrupt our sleep patterns.
Nighttime anxiety is a vicious cycle, where worries and sleeplessness
feed off each other. The good news is that there are strategies to
improve sleep quality when anxiety strikes.
Following the rules of good
sleep hygiene, seeking medical advice, and understanding the potential
impact of medications can help you find relief and achieve a restful
night's sleep.
Moreover, research has shown that deep sleep may act as a natural
remedy to alleviate anxiety. It's essential to recognize the connection
between sleep and anxiety and strive for a balanced, peaceful night's
rest to break free from the anxiety-induced sleep deprivation cycle.
If anxiety and sleep issues persist and affect your daily life, don't
hesitate to consult a healthcare professional for guidance. They can
provide tailored advice and support to help you manage anxiety and enjoy
better sleep.
Remember, taking care of your mental and emotional
well-being is a crucial step toward a healthier, more restful life.
Until next time, sleep well.
Goodnight!
The information in today's post is for educational and informational purposes only and is not intended to be a substitute for professional medical advice, diagnosis, or treatment. When you have questions regarding your health you should seek the advice of your health care provider.