Widget not in any sidebars

---
Sleep deprivation can have a number of effects on your physical and mental health. Some of these may include:
Insulin release changes
Weakened immunity
Increased high blood pressure risk
Increase in heart disease risk
Increased weight gain risk
Diminished sex drive
Depression
Anxiety
Most people are aware of the day to day costs that a lack of sleep has on your work performance and alertness. But, could you have unknown effects from sleep loss?
I have often had times throughout the day that I felt sleepy and could barely keep from nodding off. I sometimes struggled to stay focused on tasks or think clearly because I was sleepy and had instances where I couldn't rely on my memory for things I did every day.
Even driving home could be a challenge to stay awake. As I went through the days trying to get as much done as possible I put less value on sleep than achieving goals or completing work. I could get by with less sleep and push through it. I thought I would do better in the end. But would I have better achieved my goals if I had allowed myself good sleep all along so I could perform better?
The effects of sleep deprivation on health can be far more consequential than many people realize. Beyond just feeling sleepy all the time there are many physical and mental prices to be paid for long term lack of sleep.
What is the cause of sleep deprivation
Sleep deprivation can be the result of the demands of a busy work schedule, stress,  insomnia or other sleep disorders or medical conditions. It can also be behaviorally induced sleep deprivation which occurs when sleep is restricted in favor of some other activity such as work, school and studies, money making or even watching television. In some cases behaviorally induced insufficient sleep syndrome is a chronic condition prevalent in people with excessive daytime sleepiness.
When you can't sleep – Work and lifestyle affected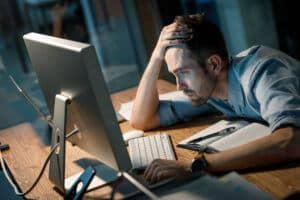 While eight hours of sleep per night is believed by many people as the amount of sleep you need, some may be good with a little more or a little less. Seven to nine hours is considered to be the range needed by most people. Sleep deprivation occurs when an individual does not get the sleep they need over a period of time. The longer the period  of time, the more the consequences mount up. Sleep deprivation symptoms include extreme daytime sleepiness, fatigue, and inability to concentrate, or having memory problems.
For my experience, I felt I appeared to others as being lethargic and having a lack motivation or enthusiasm. Even though, it was not really the case. I could still appear to function on the basics of the day but it gave the impression I was less than competent at what I was doing and sometimes annoyed others when I couldn't remember things or keep up with the conversation.
Some people may be moody or irritable. Again, for me, if you have this behavior over a long period of time and someone doesn't know you well, this can look like it is just part of your character. That can give others a wrong impression and make work and social life more difficult. My relationships suffered. I was too tired to have a social life, and I couldn't keep up at work.
The health effects of sleep deprivation on the body
Sleep deprivation can increase the risk or contribute to a number of other health conditions.  The greater the sleep loss is, the stronger the influence on these health conditions may become. Physical effects of sleep deprivation include:
changes to insulin release creating higher blood sugar levels and risk for type 2 diabetes
Weakened immunity
Increased risk of high blood pressure
Heightened risk of heart disease due to increased levels of chemicals linked to inflammation, which plays a part in heart disease
risk of weight gain/obesity
Less sleep may contribute to diminished sex drive, although in men this may be due to receding testosterone levels
Behavioral effects of sleep deprivation
Partial sleep loss over a period of days can have the same effect as total loss of sleep during a short period of time. So, just because you haven't lost a lot of sleep all at once doesn't mean you aren't accumulating sleep debt. The loss may be as little as an hour per day. The results can be the same. If you lack sufficient sleep you may experience:
Attention deficits such as the inability to stay focused on a task or completing it, difficulty following instructions or following a conversation
Slowed memory function and the reduced ability to retain or recall memories.
Depressed mood or irritability
Repetitive behaviors such as staying on the same topic when a conversation has changed or continuing to perform a task even though it is already complete
You may be more prone to accidents
The longer term psychological effects of sleep deprivation
If you have been losing sleep for a period lasting longer than 3 months your condition would be considered chronic sleep deprivation. In longer periods of sleep loss psychological effects may be encountered. This longer term lack of sleep may lead to:
Depression
Anxiety
Paranoia
Suicidal thoughts
Sleep debt – Can I recover from it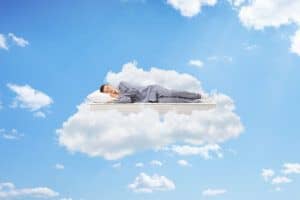 Sleep debt or sleep deficit is the accumulated effect of the sleep you lose. It may be the result of insomnia or other sleep disorders or medical conditions, but in many cases, sleep debt is the result of a pattern of not going to bed and staying there until fully rested. In addition, we don't always notice the loss because we are less capable of recognizing it the longer it goes on.
In the end the only thing that can recover sleep debt is more sleep, but you can recover it, even if it has been a long-lasting loss of sleep. If you experience sleep problems due to insomnia or other conditions for longer than two weeks you should consult with your doctor.
In my case, I stopped sacrificing sleep and began to follow a good bedtime routine allowing enough time to get as much sleep as I needed. It did take a good period of time to feel fully rested again and to be myself. But only because my loss of sleep had been extreme and over a long period of time. I did better at work every day and spent time with my friends again. The things I had lost interest in that I loved doing came back to me and I began to feel the energy and life to express myself the way I used to. I smiled.
---
This article is for informational and educational purposes only and does not constitute medical advice. You should seek the advice of a doctor if you need medical treatment. Read full disclosure here.
---
references
Extent and Health Consequences of Chronic Sleep Loss and Sleep Disorders
https://www.ncbi.nlm.nih.gov/books/NBK19961/
How Does Sleep Affect Your Heart Health