Why do my legs ache when I don't get enough sleep? I can't get enough sleep because my legs ache.
If you often have problems with aching legs at bedtime, it can be difficult to go to sleep. Not getting enough sleep can be adding to the problem of your legs feeling achy. In fact, lack of sleep can make you feel achy all over, and feeling achy all over can make you lose sleep. How do you break the cycle?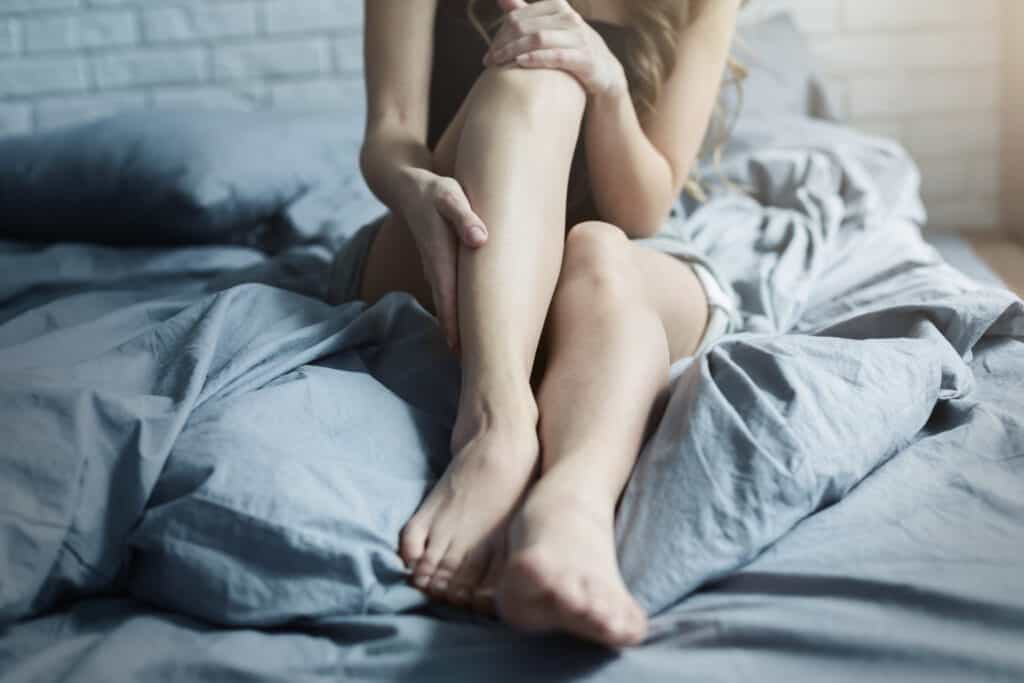 How can lack of sleep cause muscle pain?
You can experience muscle pain from injuries, sports or leisure activities, your work environment, or chronic conditions. You may not think about the role sleep plays in managing that pain. When you sleep, your body performs a number of restorative processes that normally help you recover and reduce the pain. Among them are:
the regeneration of tissue
producing important hormones
Forming neural connections in your brain
Producing compounds that reduce inflammation
renewal of energy reserves
So when you don't get enough sleep your muscles don't have enough time to recover from your daily activities. If you have a very physical job or engage in sports or other athletic activities you can feel the impact at the end of the day. Without enough sleep that impact can last longer.
Sleep loss is inflammatory and inflammation makes you lose sleep and takes away your energy. Less time sleeping means less time making those anti inflammatory compounds.
Without the restorative benefits of sleep the muscles may remain inflamed and the pain can linger on. This in turn makes it more difficult to sleep and can start a cycle of more pain and more sleep loss.
There are also studies linking sleep deprivation to chronic pain. Certain parts of the brain become more receptive to pain signals when you are deprived of sleep. So poor sleep decreases your tolerance to pain while increasing the intensity of the pain.
Fibromyalgia is a chronic disorder of muscles and joints where you experience widespread feelings of pain and stiffness. Sleep problems are common for people with Fibromyalgia. Again, with Fibromyalgia, your body can become more receptive to pain from a lack of sleep creating an increasing cycle of more pain and more lost sleep.
---
When sleeplessness starts in your legs
RLS
Many people that suffer from insomnia don't realize that it's the result of a medical condition known as RLS, or restless leg syndrome. Sleep deprivation can actually cause or exacerbate RLS.
Often unrecognized it may affect up to 10% of adults to some degree. Symptoms ranging from moderate to severe may be experienced by approximately 3% of adults at least twice a week.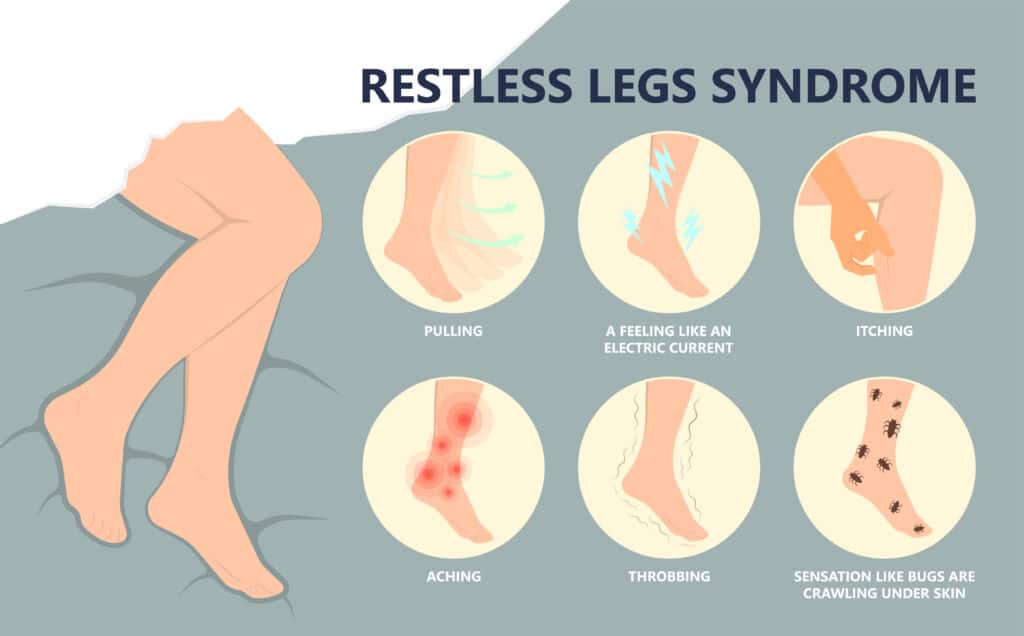 Symptoms of RLS can range from aching, cramping, pulling, and itching to feeling like something crawling. The result is an irresistible urge to move your legs which starts or worsens at night.
This can also occur with PLMS (periodic leg movements of sleep). These are involuntary muscle movements of the foot ankle or knees that last around 2 seconds and occur about every 15 to 30 seconds.
This not only keeps you awake but your sleeping partner as well.
Leg cramps
Another but unrelated problem that can occur is leg cramps. They are more common as you age and can be very disturbing to your sleep.
Causes for leg cramps can be a sedentary lifestyle, overworked muscles, prolonged standing, or an improper sitting position. Also, over time, your tendons connecting the muscles and bones naturally shorten which can lead to cramping.
PAD
Another cause of nighttime leg pain can be PAD, or peripheral artery disease. This condition is when there is poor blood flow in your legs due to clogged arteries or vessels. Leg pain is the most significant symptom of PAD and commonly will get worse with activity. In severe cases it can keep you awake at night. It may also lead to more serious events such as heart attack, stroke, amputation, gangrene or Death.
---
How do I relieve leg muscle pain when I don't get enough sleep?
Causes of muscle pain when sleeping may vary but there are some things you can do about it. You can take these steps below to begin to manage the causes of your pain then follow up with good sleep hygiene to improve the sleep you need to break the cycle of lost sleep and more pain.
---
Practice good sleep hygiene for better sleep
Sleep is a healing process. Reducing the pain of your achy legs, like all muscular aches, requires the ability to regenerate your body and reduce inflammation which your body performs during sleep. Help your body to restore itself and get better sleep by:
maintaining a regular sleep schedule – wake and go to sleep at the same time each day
check your pain medication – some medicines can make it harder to sleep
watch napping – if you feel a nap can help try to limit it to 30 minutes
learn to use relaxation techniques
find a diversion – thinking about the problems of the day can keep you awake. Listen to music, read a book, or other relaxing activity to take your mind somewhere else for a while.
Make your bedroom for sleep – Keep it dark and cool. Send the kids and pets to their own places and keep electronics in another room.
Avoid coffee and other stimulants after lunchtime
Don't use alcohol or eat big meals close to bed – This can be especially so if you have acid reflux problems.
Don't do heavy exercise late in the day – This does more to stimulate and keep you awake and raises core body temperature.
---
Conclusion
When your legs ache you can't sleep. When you can't sleep your legs ache more. Breaking the cycle is important if your legs ache when you don't get enough sleep. Being able to get the amount of quality sleep you need to heal is just as important as identifying the primary cause of pain and treating it. Sleep solves a lot of things. I hope you sleep better tonight.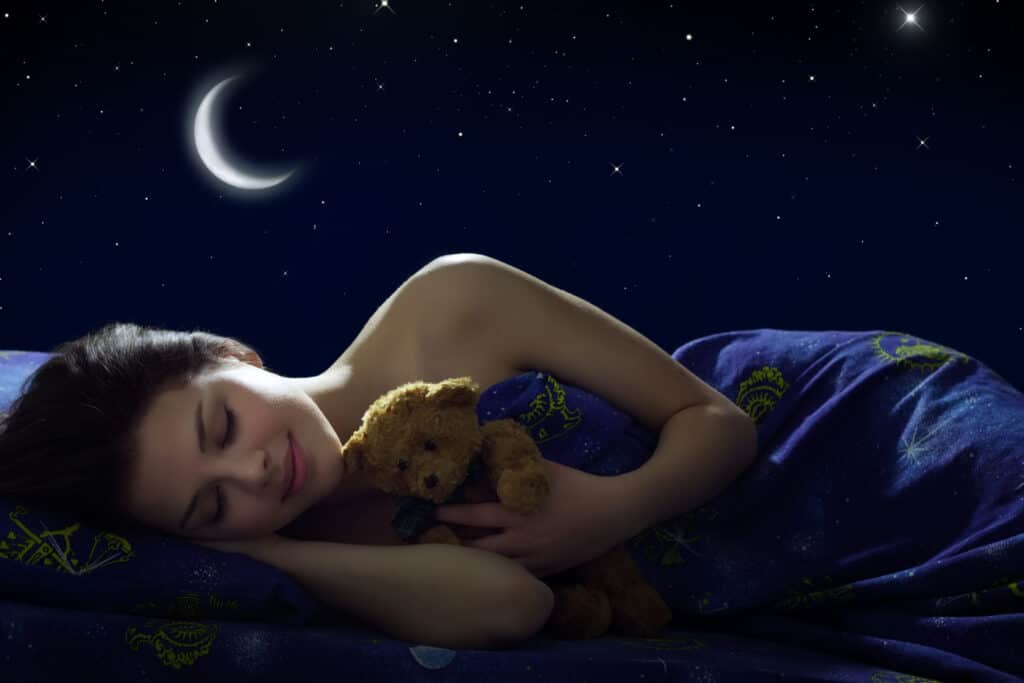 Do you have a sleep related problem or question on your mind? Let me know in the comment section below. If you like this post please share it.
---
The information on this page is for educational and informational purposes only and is not intended to be a substitute for professional medical advice, diagnosis, or treatment. If you have questions regarding your health you should seek the advice of your health care provider.
---
References
https://www.health.harvard.edu/diseases-and-conditions/when-sleeplessness-starts-in-the-legs
https://www.cdc.gov/niosh/emres/longhourstraining/sleepdeprivation.html
https://wphphysio.com.au/can-lack-of-sleep-cause-muscle-and-joint-pain/
https://www.everydayhealth.com/pain-management/how-sleep-when-you-ache/
https://www.healthline.com/health/leg-cramps-at-night#causes
https://www.cvmus.com/vascular-treatment/leg-pain-treatment-and-causes